Ok so here is the deal...I am still new to this blogging thing... I look at other teacher's blogs and I am nothing but envious... I wanted to take part in this linky party, but I needed help :/ so thanks to Hadar over at Miss Kindergarten,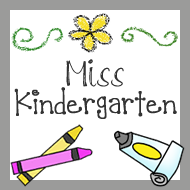 I think I got it!!!!
So here I go...
I'm linking up...
1. I am teaching summer camp for a Preschool this month and one of my students asked me what my name was...keep in mind we have been in camp now for three weeks... anyways I told him that he can call me Miss Muscarella or Miss Lauren (last name very hard to pronounce, especially being three)...he looked at me for a minute and then said," What's the big idea here? You should really just stick to one!" I just about died laughing.
2. This was from one of my students last year, 2.5 years old...
Teacher?
Yes.
I slept during nap.
Really? How do you know you slept?
Because I felt water coming out of my mouth!
That's awesome Sammy!
3. Miss Lauren
Yes
My friend called me a stinky cat.
Are you a stinky cat?
I'm not even a cat. You know I don't even have a tail. How could I be a cat without a tail? Gosh teacher.
I see Katherine.